[elementor-template id="629″]https://youtu.be/JH5EpYreSXM

How can I stop looking at porn?
SHARE THIS PAGE WITH YOUR FRIENDS
TIPS for Stop Looking at Porn:
Find a trusted adult who will help you deal with the problem. This might be a teacher, coach, or youth leader. Ask him or her to hold you accountable for progress. Be honest in reporting your successes and failures.
Move all computers and TVs out of your bedroom and into an area where others can see what you're watching.
Set all Internet control filters on high.
Remind yourself that looking at porn can do long-term damage to current and future intimate relationships. Also be aware that many (if not most) people who pose for porn are emotionally unfulfilled and often carry a sexually transmitted disease. Many of these individuals do what they do to help pay for their addictive habits. What you see in print and on-screen is just a little piece of an often-tragic story.
Avoid media and programming that is likely to contain sexually charged material.
When you feel the urge to look at porn, quickly choose a healthier alternative, such as exercise or another favorite activity.
Seek professional help when you need it. Check out reputable online sites such as www.candeohealthysexuality.com
STORY
Just one look
An innocent school project let to a horrible addiction
As told to Lisa Freeman – Images by David Di Biasi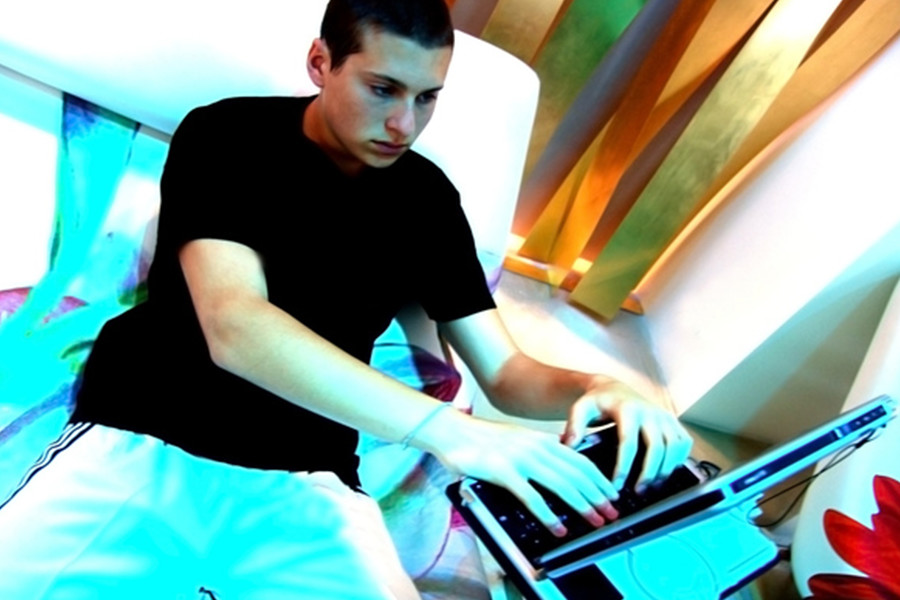 I had to do a project for science class on the human body. It was late.
Everyone was in bed but me. Sitting alone in my room at my computer and munching on some potato chips, I typed in the word "body." All of a sudden bad images began popping up on the screen.
The more I tried to close them out, the worse they got. Pretty soon all kinds of sexual scenes were showing on my monitor. At first I was embarrassed and wanted them gone. But then something inside me caused me to be curious. Besides, what's just one look? I figured I could take a quick look and go back to my studies.
So I clicked on one of the images.
Before I knew it, I was engrossed in an X-rated movie.
I'd never experienced this kind of excitement before.
But I also never got my schoolwork done.
And when I tried to go to sleep that night, I couldn't get those pictures or that video out of my head. I felt guilty and horrible. Oh, God, what have I done? But then I started thinking.
It wasn't like I tried to go to those sites.
It was an accident, right? That's when I made up my mind I wouldn't do it again.
My alarm clock went off at 6:00 a.m. as usual. I groggily reached over and shut it off. Next thing I knew, Mom was grabbing my shoulder.
"Drew, you're gonna be late for school! C'mon, get up."
I forced my eyes open and glanced at the clock. 7:30?
"You must have been up late studying." She walked toward my computer. "You left your computer on."
What? I sprang to my feet and ran ahead of her. "Y-yeah, I was up really late. I'll shut it down now. Sorry."
"OK," she said, giving me a strange look. "Are you feeling all right?"
"Y-yeah, I-I'm just tired."
"Well, you look a little pale." Mom reached over and felt my forehead.
"You don't have a fever."
All those sexual pictures from the night before flashed before my eyes. Guilt pricked at my conscience.
My heart ticked like a bomb.
Mom could always see right through me. It was like she had X-ray vision or something. I tried to clear the lump from my throat. As she stood there staring at me, my face burned.
"Now you're getting your color back," she said. "Good, I'll see you in the car."
I let out a huge breath of relief. Whew! That was close. I shut my door, pressed in the lock, and turned on the monitor. Those images were still there!
Click . . . click, click . . . They wouldn't close—more windows kept popping up.
The car horn blared outside.
My fingers shook as I thought about what to do. I couldn't leave the computer like this. What if Mom or Dad come in and turn on the screen?
What if my younger brother or sister sees this? No, I couldn't risk it. I had to get rid of it once and for all.
So I did the only thing I could.
Something Dad told me never to do.
I shut the computer down manually.
There! That should work. Now no one will ever have to know.
Just then my little brother Jimmy pounded on my door. "Mom says we're gonna be late! Hurry up!"
"OK, I'm coming." All day, even at school, my mind would fl ash to those bad images. I kept closing my eyes and trying really hard to focus. Everyone in class was reading their essays aloud today. I normally liked sixth-hour English.
"Drew, it's your turn," Miss Brower said.
"Uh, I'm sorry," I said. "I'm not ready. May I read mine tomorrow?"
"This was the last day for your paper to be turned in," she said. "I'm sorry, but you'll have to take a zero."
It was about the same in every class that day. I couldn't get those pictures out of my mind. I also couldn't stop thinking about what would happen if someone logged on to my computer.
Mom and Dad checked it all the time for viruses and stuff. And I forgot one little thing. I didn't erase the history. I knew I'd be history if they ever found out.
As soon as I got home from school, I ran to my room. When I turned to shut and lock the door, I saw Dad standing there.
"Good, you're home," he said. "We need to talk."
I had a funny feeling he already knew everything. As we sat down on my bed, I thought of a way to squirm out of this mess I had gotten myself into.
"It's about your computer," he said. "I was coming in to do some updates, and some things popped up on the screen that shouldn't be there."
"Really?" I tried to act all innocent. Inside I was crumbling, shaking in my shoes.
"I understand those things can pop up sometimes," Dad said. "Is there anything you need to tell me?"
I sighed. "Yeah. I was working on a project for school and I typed the word "body" in and all this stuff popped up, and I couldn't get rid of it. So I hid it from you guys and shut the computer down manually."
"It's OK, son," Dad said. "As long as you didn't intentionally do this."
"No, Dad, I didn't."
"Son, you know the Bible says that just looking at a woman lustfully is adultery.
Internet pornography is huge. It can trap you if you let it. I'm just glad you were smart enough to shut the computer down before that stuff got into your head."
"Yeah, I know."
Before he left, he offered to pray with me. But I had too much shame. I couldn't let him know the whole truth. I didn't even like what I had done; how could I tell him?
That night in bed those images haunted me. On the one hand, I didn't ever want to look at that stuff again.
But on the other hand, I craved it. It seemed like an addiction, and I had to have it. Finally, I couldn't take it anymore. I jumped out of bed, locked my door, and turned on my computer.
It was like I had to have a fi x. But after watching a few videos, I felt even worse.
This time I made sure I cleared all the history and shut down the computer.
All those images were erased from the computer's memory, but not mine.
I knew God must hate me. My parents too. I wanted to tell the truth and get out of this, but I just couldn't. Something deeper inside had a hold on me and wouldn't let go.
Day after day I hid my secret. But my grades were slipping. Assignments were late or never turned in, and I rarely slept. Nighttime was when I got my fix. I always prayed when I was done, asking God to forgive me and deliver me. Still, the guilt never went away. One night just as I logged on, my door opened. Dad stepped in. There was nothing I could do.
Yeah, I got busted. I got grounded, too. But I also got the help and accountability I needed to get better.
We moved the computer out of my bedroom into an open area. Things are slowly getting better. Now I don't think about those images all the time.
My grades are picking up, and I'm able to sleep at night without feeling all that guilt and shame.
I sometimes hear people say it's OK to look as long as you don't touch. That's garbage. I know from experience that just one look can lead a person into a horrible nightmare.
Each day I ask God to protect my eyes and keep them focused on him.
SHARE THIS PAGE WITH YOUR FRIENDS